Happy July friends! We are half way through the year already…WHAT!? How are those new year's resolutions working out for you? Hah. Same here. Probably time to revisit them, if we could actually remember what they were? Anyhoo, some of you know we have a little seaside abode on 30A we bought and totally gutted a few years ago…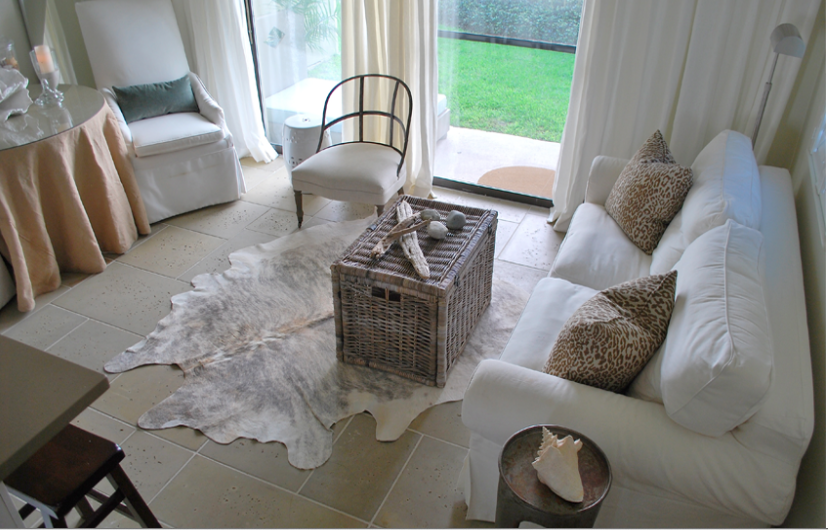 You can see the before and after transformation HERE or a major highlight of my life, the story Joni wrote for her popular Cote de Texas blog HERE . After renting it to the public for two years and recouping renovation costs, we decided to officially make it a second home and no longer rent to strangers. I immediately pitched the bed and sofa and started hauling down/styling the space with some irreplaceable items, antiques and family photos.
Let's start with the new additions, a sectional from Lee Industries and the new round coffee table from Roost in the living room (of course I forgot to pack the good camera so my apologies for the iPhone photography).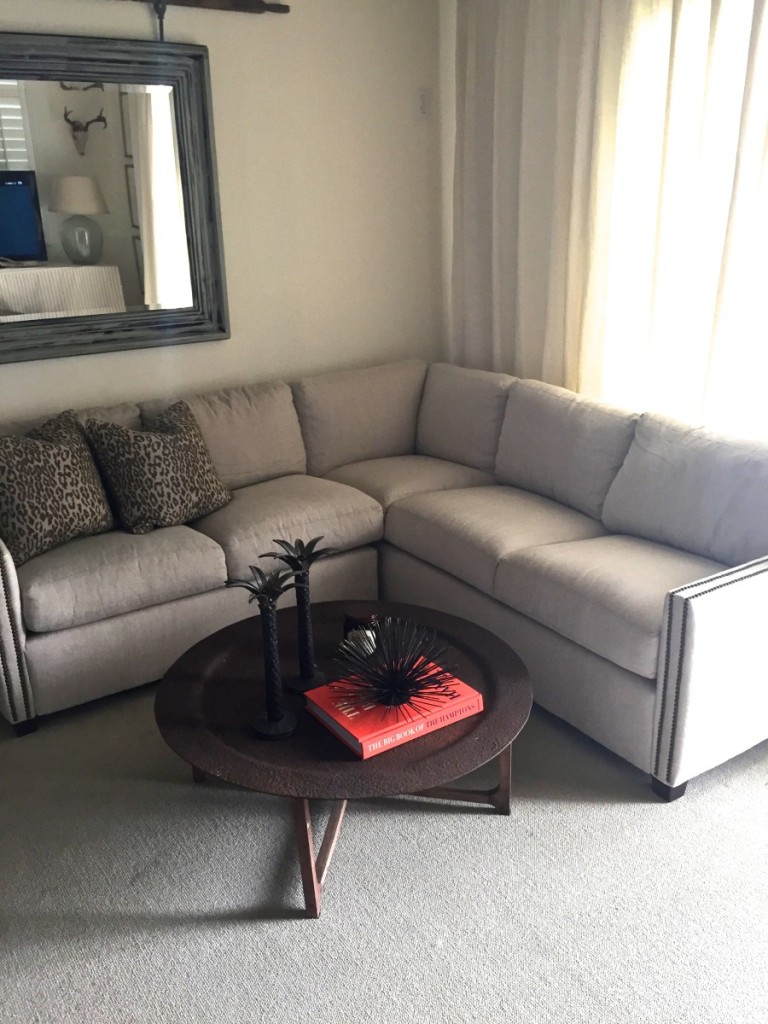 The sectional is a smaller scale and really comfortable! The coffee table was a steal at $30 from a local showroom sale. We recently spent a week here and the nice thing about being around for a few days is you can order stuff on Amazon and bam, its there before you leave, like The Big Book of Hamptons coffee table book, in the perfect shade of orange, perfect for a beach place.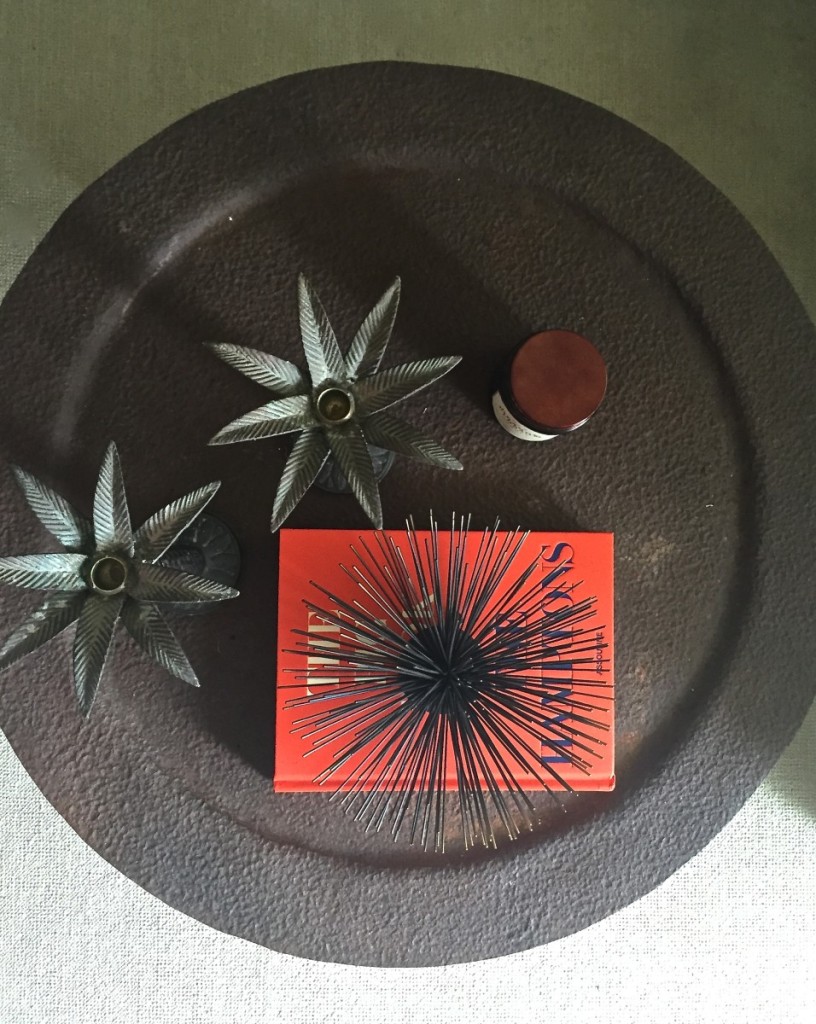 I moved the mirror pictured here in the hallway…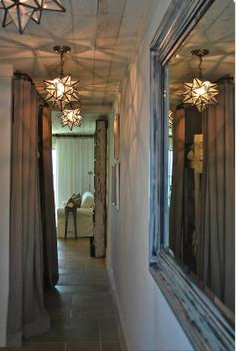 Over the sofa, along with hubby's Grandfather's oar from Torch Lake above…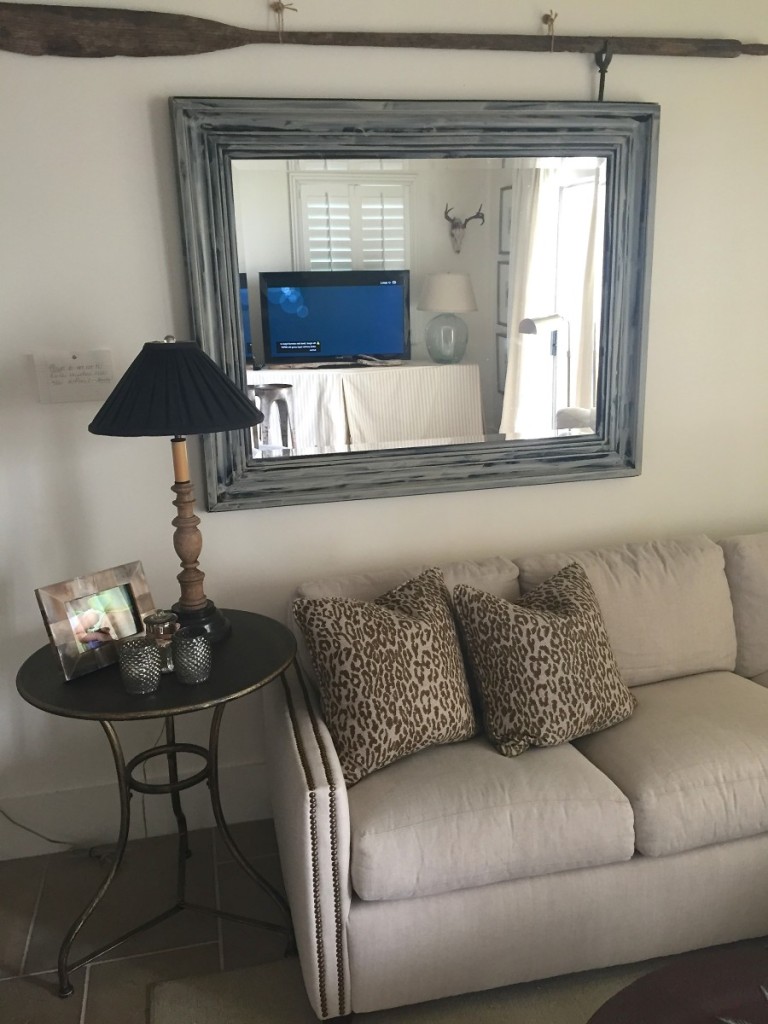 I'd like to finish off the look with a pair of these Wisteria sconces here…love these guys! And they come in brass now too.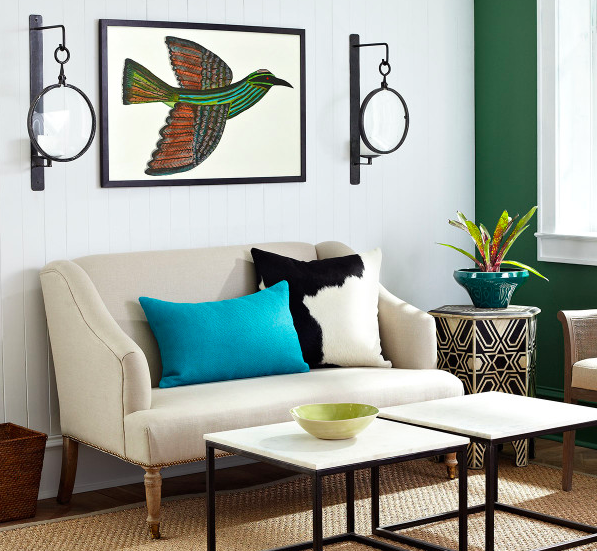 The side table I picked up at the new World Market that just opened nearby, yes, and has a nice unique finish to it for the price.  The lamp was a vintage find from Lakewood 400 with a new glass finial atop. I think its time to bring back the hide rug to layer over top for a little luxe. Speaking of luxe, holy smokes, have you all witnessed the beach house Susan Ferrier designed for Veranda this month??? Go behind the scenes with Susan HERE Bananas!
I'm thinking some Kelly Wearstler Barcelo fabric pillows to add to the mix with the cheetah might be fun?
We moved the television to the opposite side of the room atop a skirted console table I had made (previously in the bedroom) and styled out this corner with some super oldie but goodie shell prints I purchased at the original Lakewood Flea Market, now defunct (TEARS -those were great days) and converted this glass demi-john from Queen of Hearts into a lamp.  Finished off the look with some trusty, crusty old antlers. Always a no fail.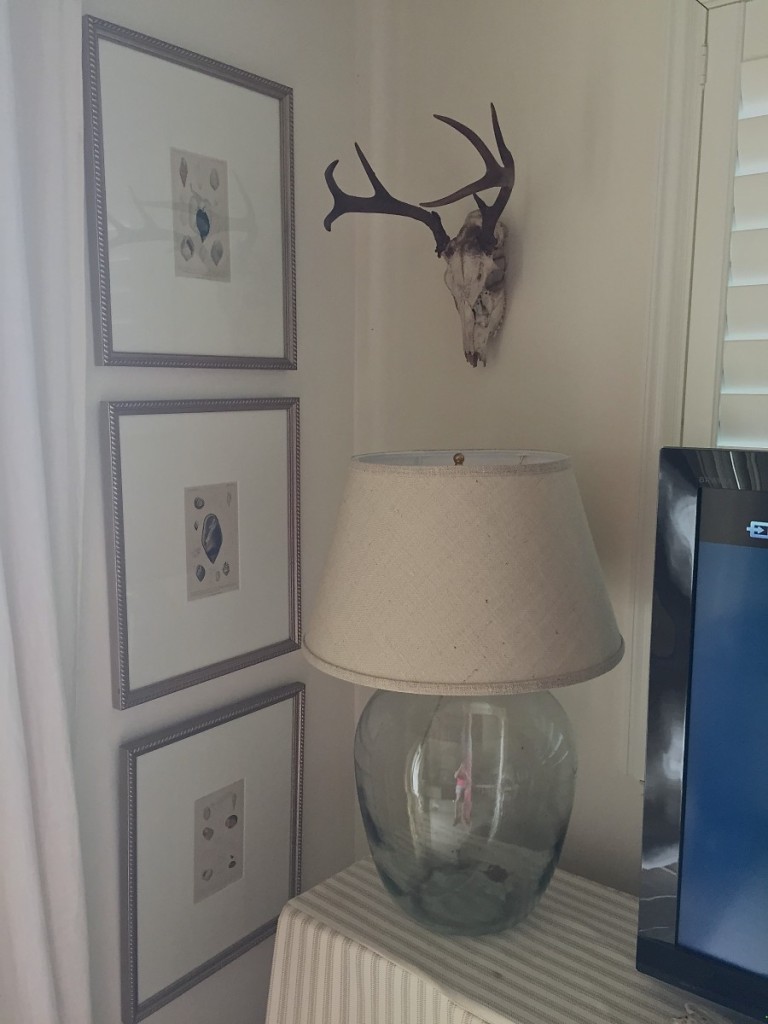 I had a pair of these versatile, go anywhere, add anywhere, barrel chairs from Ikea in here and placed one here with a $2 ottoman I recovered in a funky faux metallic leather. Here you can see the artwork I brought down from home (that I was scared someone might walk off with – I'd heard stories) and a favorite Italian fioria sitting at the bottom of the shelves filled with starfish that my friend Lisa brought back for me ALL the way from Italy. Didn't want to risk losing those. This is basically where Mama sits with her mags and coffee while the rest of the family spreads out on the sectional.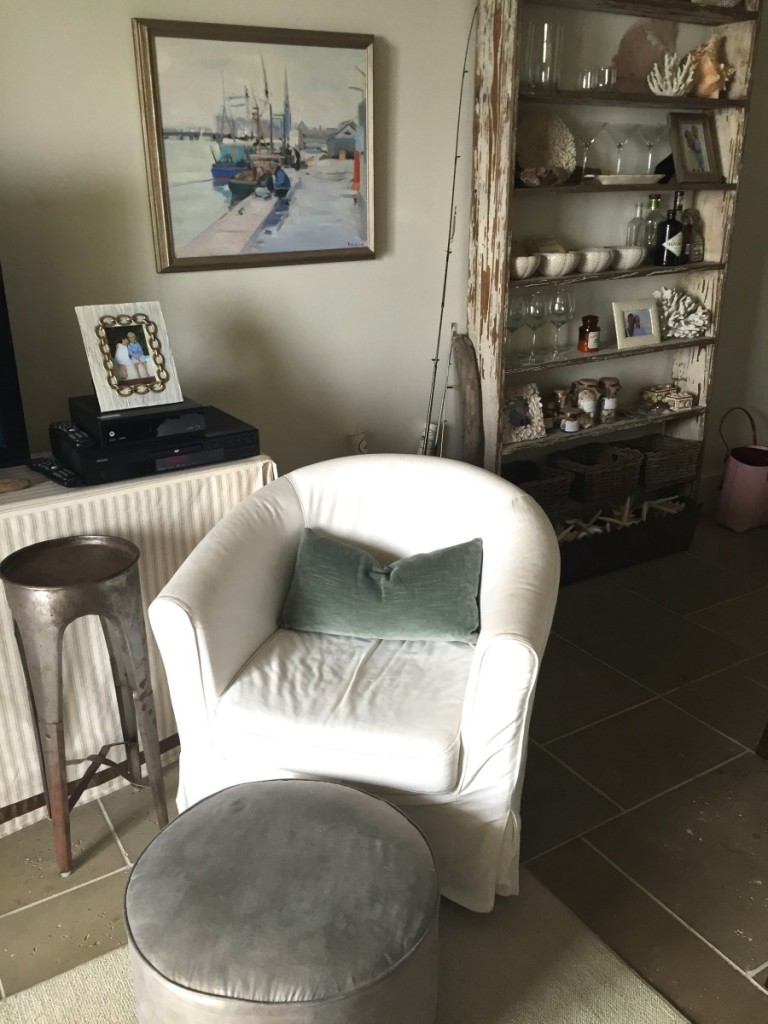 I have a lot of fun with the shelves adding crust, style and texture, always evolving. I recently brought down the cross, a dear friend gave me from Santa Fe, and hung it front and center, where Jesus should be :-)))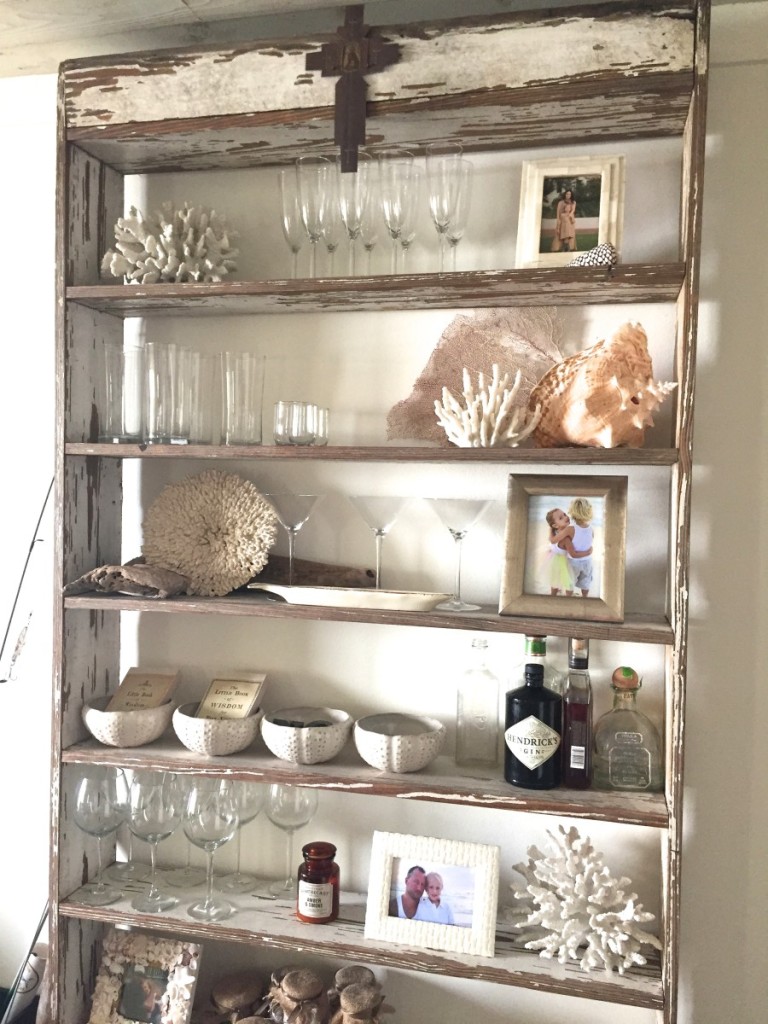 Originally when we renovated, I had an idea to paint this small section of the kitchen wall in chalk board paint, to draw on. Since finding these little round mirrors at Target, I'm going to proceed with that idea and sketch a seahorse down below as if the mirrors are bubbles under the sea. We'll see if that idea actually translates to reality and how good my art skills are these days…oy.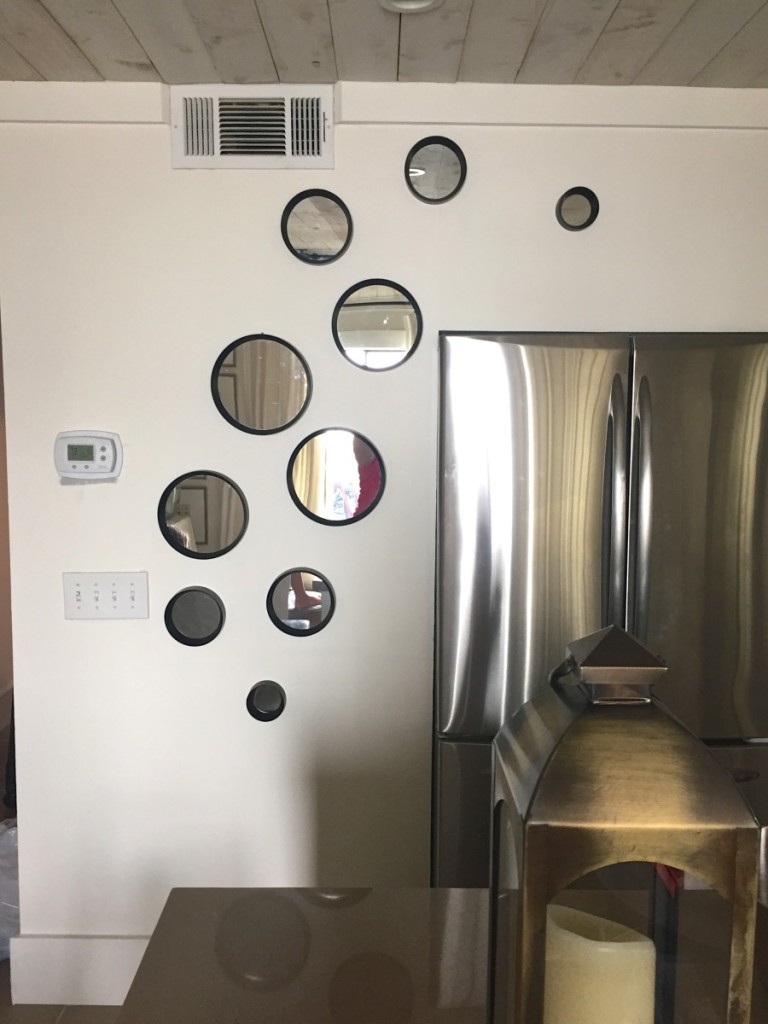 I moved these mirrors, previously the old closet doors, to the hallway and created this little moody vignette/vision as you walk into the hallway from the bedroom and bathroom. The extra large candle is from Ikea. The column was a Scott's find. The starburst, I think, was from Target back in the day. I tied a small string and hung it from a picture hanger so it "floats" above the two.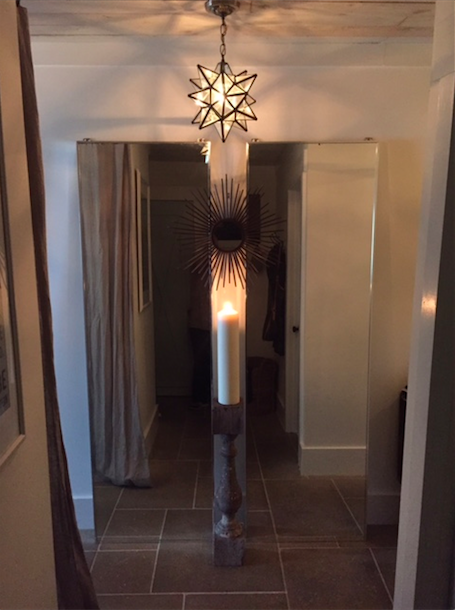 It was also time to have everything freshly painted and I decided to add some color to the doors. BUT not so sure about the color on the doors. However, the Hubs says he likes it, so good enough for me…for now. Wink. Wink.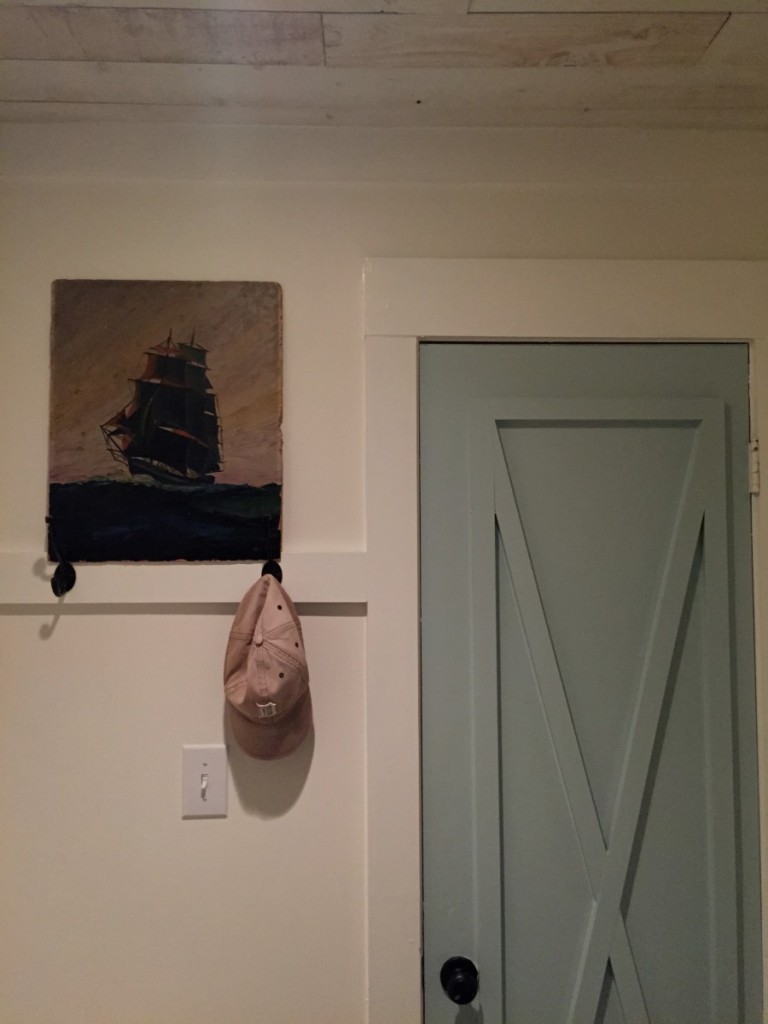 Moving into the bedroom, I brought some pillows from our previous home to add to the euros and bolster and hung a silver starburst mirror from Lowe's over the bed for a focal point. Thinking about having a faux white leather headboard made for here maybe??? Or something shiny with texture, maybe a metallic linen instead? Still chewing on that. The silver coral lamps were a Homegoods happy clearance find. I've always loved the look of mirrors hung over nightstands so will probably add some of those too (there are a pair currently on the opposite wall, just need to find the time/energy to move them). The more mirrors the better, in opening up small spaces and making them appear larger.
Was able to squeeze in the other Ikea chair here, which is what makes these guys so useful, because of their size, you can add them virtually anywhere you need a chair.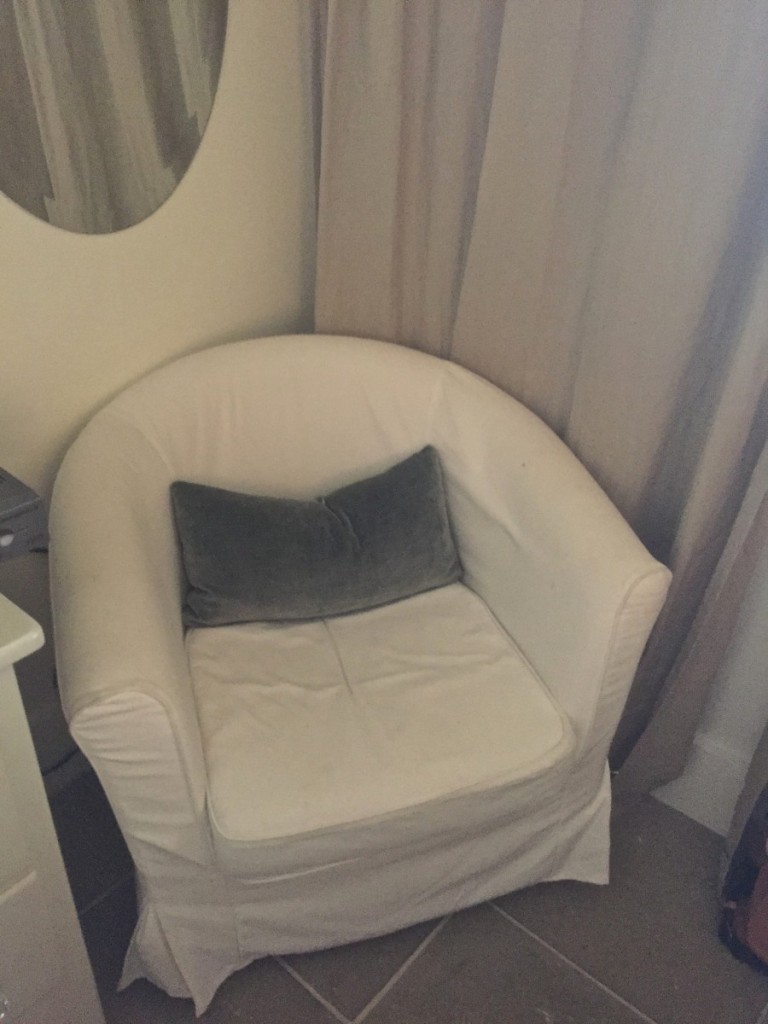 That's all for now at the beach. I hope wherever your holiday takes you this weekend – beach, lake, bbq – that it is full of fun and fireworks! I'm spending the holiday in my hometown with Dad and all of Mom's old friends. Looking forward to hearing lots of great stories from the past. Being home is such a blessing. I'm grateful to have been raised in a small town full of good people/good friends that raise you UP and provide unwavering support. Yesterday my old high school basketball coach came by, and had us laughing about some of the random stuff we use to say, "don't worry coach, she goes that way, I'll just BUST A MOVE on her." Hah.
So there you have it. Go bust a move this holiday weekend team and as always, thanks for stopping by the road and allowing me to share my latest and greatest crazy ideas with you.
Jenny in the rock